Venice | JW Marriott Resort
06.10. - 08.10.2019
Founder & Hosts
Discover the faces behind the Fast Forward Forum
Three men had a dream: to create an anti-conference, the first of which was held in St Tropez in 2018. Now, founder Heimo Hammer and hosts Dave Birss and John Burkhart return to guide you through this year's three-day festival of thinking.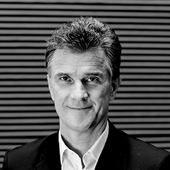 Heimo Hammer
CEO of the kraftwerk group - Austrias leading digital agency. Heimo has been start up investor and digital entrepreneur for 28 years. Co-Founder and host of Fast Forward Forum.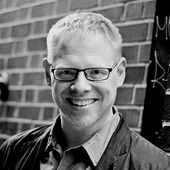 Jon Burkhart
Jon is founder of marketing consultancy TBC Global, keynote speaker and content strategist. He helps clients think differently, focusing on tech/innovation, live experience and content.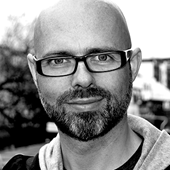 Dave Birss
Dave Birss is a writer, speaker, consultant and broadcaster who is obsessed with creativity and innovation. He debunks the nonsense and explains practical ways for organisations to have better ideas.
Close
Heimo Hammer
Heimo Hammer, born in 1963 in Villach and CEO of kraftwerk. His focus is the strategic and creative combination of traditional advertising with new media. That means planning and designing corporate communications and campaigns with a sustained impact across a variety of media. "Modern advertising is an orchestra of old and new instruments performing in unison."

kraftwerk has put theory into practice since 1990. There are no longer borders between online and off-line. At kraftwerk communication campaigns always focus on people. Where do we get information, and how do we consume it? What innovations help us beat the competition and get to the customer first? This is where we focus our efforts.

Those who grasp the initiative go further - Over the past years Heimo Hammer and kraftwerk have been increasingly on the search for innovations. By working together with national and international partners they have discovered completely new forms of cooperation and utilised synergies.
Jon Burkhart

The Fast Forward Forum is the love child of Heimo Hammer, Dave Birss and myself. We met in Skopje, Macedonia in November 2017 and after a lot of dancing, harmonica playing and fruit brandy, we decided that it was time to do something about this monstrosity known as the "business conference."


I've had hundreds of speaking gigs since my 1st book came out in 2013 and I leave most of them with the same confused, slightly irritated feeling. Here are the 4 questions that pop into my brain after I've recovered from stage diving or projectile throwing or whatever new interactive technique I've tried out on my audience.


Why did the speakers just give us the same thing as we can see on their YouTube channel?
What did the audience think and why was the Q&A so staged and crap? Am I going to put any of the themes, tips or tricks into practice tomorrow?
Did I really get to know any of the audience and speakers on a deeper level where I would want to catch up with them regularly and collaborate with them in the same way I hit it off with Dave and Heimo?

Heimo, Dave and I met at a conference and together we developed our thoughts into the Fast Forward Forum with the help of the excellent, relentless kraftwerk team. Dave and Heimo spent loads of time pitching the book to publishers and fast-forward to a month after the October event and the final draft was off to print.


Last year I was a co-host. This year, I will work tirelessly to prepare the speakers for what will happen in Venice. This isn't something that they will all have experienced. Even those who have spoken at TED will find this format's focus less about the person standing in the middle of the circular red rug and more about the folk off the stage.


If you are ready to commit to 3 days in Venice and then a continuing dialogue about how we can really bring the future forward and stop doing things the same old way just because that's what's been done before, then by all means, let's chat. We're hoping to get people from all around the world this year, and I've been evangelising the Fast Forward Forum every time I walk off stage in whatever country or continent (except Antartica - sorry I have thin skin) I'm in. If I'm coming to your town next, let's have a coffee and see what we can do to answer the burning questions you have and get you to Venice for what promises to be the highlight of my year (and yours hopefully) for the second year running.
Dave Birss

Our story starts in the early hours of the morning somewhere in Skopje in November 2017. Heimo, Jon and I had all spoken at the lovely AllWeb conference and were strolling back to our hotel after some post-event drinks. As people who do a lot of public speaking, we were talking about our shared interest in innovating within the conference space. And we got the beginnings of an idea we wanted to explore further. So we all met up in London a few months later to see what we could do together.


When we met up again, we set about turning the common assumptions about conferences on their head.


The first assumption we tackled was that conferences need lots of attendees. The dominant business model for conferences is to make money from ticket sales and sponsorships. To make both of these work, you need as large an audience as you can possibly get. We decided to go in the other direction and create a super-small event with an exclusive, invited group.


The next assumption was that the speakers do the talking and the audience does the listening. If we were to have such a smart audience, we wanted to get access to their brains too. So we decided that out of the hour we'd allow for each section, the speaker only had twenty minutes whilst the audience had double that time to discuss, challenge and build on their thinking.


The last assumption was what happens on the day is all that matters. But if we were focusing on the thinking and discussions, then we wanted it to have a legacy that more people could benefit from. The way we tackled that was by publishing the output in a book.


And the result was the Fast Forward Forum, the smartest, smallest and coolest event you'll ever experience.


As someone who's obsessed with innovation and creativity, this was immediately right up my street. And working with the whirlwinds of energy that are Heimo and Jon, made it even better. The brilliant Kraftwerk team then took our ideas and turned them into plans and actions. I couldn't wait for the event to actually happen.


Fast forward to St. Tropez in October. Eight speakers and twenty guests descended on a beautiful hillside hotel for three days of ideas and discussion. As much as we had come up with the idea and helped to plan it, none of us really had any idea how it would go. By the end of the first session, it was clear that this was going to be an event that didn't just make a huge impact on the three founders but on everyone who attended. It was pretty magical.


The event went by with minimal powerpoint. The ideas being presented took center stage rather than the speakers. And the audience threw themselves wholeheartedly into making the ideas stronger and clearer and broader. The three days went by in a flash with everyone making a commitment to keep the discussions happening long after the event.


Six months on, we're still talking.


This was the surprise outcome of the event for me. I wasn't expecting it to create such a strong community. So much so that we all felt the title deserved another F for 'family'.


The next amazing output from the event has been the book. My copies arrived on Christmas Eve and were better than anything Santa delivered the following day. They're truly gorgeous pieces of design with some really inspiring pieces of thinking.I'm really proud to be included in those pages.


We've now started planning the next Fast Forward Forum, which I'm very excited about. We've got some phenomenal thinkers who have already agreed to present. And we're mixing up the format to continue with our experimental approach. With any luck, this event will help us continue to grow the family. And give us some more unexpected surprises along the way.